Romantic Room Makeover
Marriage Proposal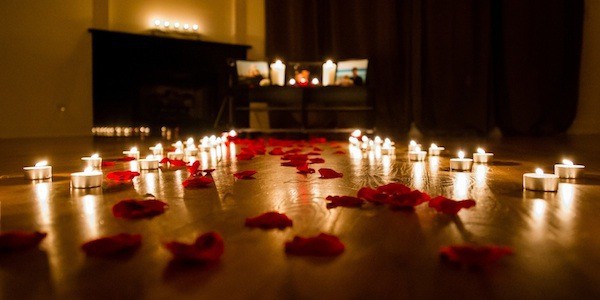 You name the location and our professional event design crew makes over the room. Whether you're visiting the Los Angeles area or are a resident, we come to your home or hotel suite and transform your room into a proposal paradise. You provide us with a two hour window when the room will be vacant and we decorate the room with LED candles in lanterns, rose petals, and framed pictures of you and your partner. Chilled champagne and two toasting flutes to celebrate the acceptance of your proposal are included.
Complete romantic makeover of a room at chosen location. Examples include home, hotel, or outdoor garden.
Rose petals, LED candles, and framed pictures of you and your partner are provided.
Champagne and toasting flutes included.
Base package $575
Personalized Proposal Sign – Add a personalized 18″x24″ "Will You Marry Me?" sign on an easel to be revealed at your discretion. Additional $50
Celebratory Cupcakes – A dozen celebratory cupcakes that say "She Said Yes" or other personalized 12 character message. Additional $99
Personalized Professional Poem – A customized poem based on your relationship is created by a professional poet. The poem is printed on a scroll handmade in Europe and tied with a satin ribbon. This is a perfect way to express how much you love your partner before you propose. Additional $155
Guitarist – Enhance your intimate proposal with a musician playing your song as you pop the question. Additional $260
Violin Soloist – Enhance your intimate proposal with a musician playing your song as you pop the question. Additional $365
Private Chef – Enhance your proposal with a private chef preparing a romantic meal. Must have a kitchen on-site. Additional $520
Photographer – A photographer captures your proposal and provides a portrait session after if desired. Package includes edited images on a CD. Additional $575
Videographer – A videographer captures your proposal and provides close-up footage after if desired. Additional $900
Available daily 9am to 9pm except all major holidays
Reservations require 5 days notice.
Proposal is non-refundable
Proposal may be rescheduled with 7 days notice. If rescheduling is not available due to travel plans, The Heart Bandits will attempt to accommodate.
A minimum of a 2 hour time window is required in order to allow adequate time for room makeover.
You are responsible for arranging a key drop-off. Examples include leaving spare key at front desk of hotel or at specified location.
Champagne inclusion is based on permissions from the venue and proof of legal drinking age. If not allowed, cider is provided.
All items from room makeover are owned by the client and client is responsible for clean up.
Book Now!
"Thank you so much for setting up the perfect proposal. I couldn't have asked for anything better! She was so touched that she had tears in her eyes. We now have such a beautiful memory that's going to last forever… We can't wait for the pictures! Best, " -Rohit